Crack The Panda Code to get Fast Page 1 Listings.
In April 2011 Google changed the algorithm in the way the rate and rank websitefor the English speaking community . Called the Google Panda Review it has had a dramatic effect on tens of thousands of websites.
The Rapid Ranking Formula is system that has been developed over a 2 month period by me to take advantage of
the fantastic ranking possibilities by adopting staregies that Google now want to see in a sites SEO and linking formats.
Too many people believe in old rehashed methods of SEO which just don't work anymore in the present day.
If you are using auto-blogs, scraped content,article submissions etc and worrying about things that are just not important anymore
you need to quickly get up to speed on the new post panda requirements.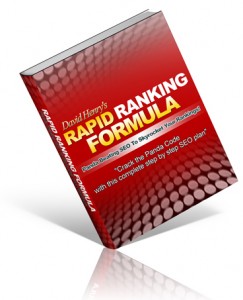 The focus on the new algorithm is all about quality, for too long webmasters have been "gaming" the search engines in to providing content that appears to fit the criteria required but under closer examination the content is of low quality or spun with keywords stuffed in to it to get as many pages indexed and ranked as possible to achieve the highest adsense earnings.
Major brands have suffered along with the average online marketer and if you rely on this type of method to generate traffic you will see a massive slide in your rankings and and therefore your earnings. Research from  shows that major online players like ezinearticles, ehow, shopzilla lost around 80 – 90% of their visibility almost overnight post panda so rthis is a fundemental change in the way we all need to present our websites and content within.
So what can Rapid Ranking Formula provide?
This report is broken down on to 2 main reports, the Panda Report provides 15 pages of both practical and technical specifications to get your website up to speed.
The Rapid Ranking Report is 55 pages of pure gold, it is a step by step guide to setting up your website so you have all of the on page SEO completed, it covers keyword research in a way that completely opens up the possibilties to find and rank for high volume keywords pre panda you would never have thought possible.
The set up module goes through in great detail how to set up all of the accounts you are now going to be working with to get fast listings, bookmarking, web directories, blog commenting most of which are set up using FREE automated tools which are in themselves worth the cost of the report.
The submission module shows you exactly when and where to submit your content to for maximum exposure and the final treasure chest module provides a great resource to a whole host of free links to submit to high pr do follow websites, it covers back linking in detail and discusses the new options you have to start to now consider as essential if you are going to get ranked. Things
like using social media in the correct way, how to harness the massive power of Facebook "Likes" and the new kid on the block Google +1 to build up an authority presence and the strategy that you need to adopt which will ultimately almost replace the back link as we now know it in contributing to the overall Google ranking algorithm.
If you are struggling to get 1 st place rankings and the old school methods are simply not working then Rapid Ranking Formula is a must read report to get you quickly back on track.
If you are just about to launch a website, it is fundamental in ensuring your success.
For a limited time I am offering 2 tremendous bonuses each of which is worth much more than the course is currently being sold for. To get your copy of this must read report visit Rapid Ranking Formula now on the Warrior Forum and read the rave reviews.