Blog Commenting Provides Powerful Back links
Blog Commenting is one of the most productive back link tasks you can do to get high PR relevant back links providing you follow a few rules.  Back links as we all know are the lifeblood of our website ranking and since the recent Panda update quality and relevancy is more important than ever.
Many people try blog commenting and give up because they never seem to get any links to stick.  Blog commenting also gets a bad press due to the automated spam type "auto approve" comments where you can find pages and pages of comments like "great post" or "I really like your theme" Links like this are now worthless in my opinion and even if you can find a PR 2-3 blog that accepts auto approve comments the link juice passed through to your page is massively diluted with the the other 800+ comments posted.
So How Do You Get Your Comments to stick?
The first thing we need to focus on is finding blogs that have a decent PR, accept comments and are broadly in the same niche.
There are many search strings well documented to find blogs to leave comments on, .edu and .gov are perceived to be of higher authority, this is not exactly the case from Google's point of view, the algorithm doesn't apportion more weight to these extensions, its just that the links are more powerful because by and large the content is far superior to that of normal .com/.net type websites so this extension does get more trust.
To start our search type this string into the google search bar, replace "your keyword" with a relevant broad keyword in your niche
site:.edu inurl:blog"your keyword" "post comment"
Other strings to try are,
site:.gov "powered by wordpress""your keyword" "leave a comment" 
Once you have your results in Google arrange them in PR order using SEO Quake.  Depending upon your niche, try to target sites with a PR2 or higher and try to aim for blog posts less than 2 months old, you will come across many older blog posts, some  from years ago with hundreds of comments on, by all means leave a comment once you are on the page but try to focus on the higher quality in general.  You will soon get familiar with spotting the dates in the descriptions in the search results so any old original posts are not really worth the effort, there really is more than enough blogs around with good quality recent posts.
How to comment
It is vitally important to read the post in detail, spend a few moments to prepare a reply and try to raise a legitimate question that requires interaction from the publisher, if you do this you have a far higher chance of getting a reply and therefore getting a comment to stick.  I see time and time again marketers posting hundreds of comments on non specific blogs with generic comments and then wonder why they have no comments that stick.
Link Velocity
I spend at least 3 hours per week commenting on relevant blogs, a relevant blog comment on a decent blog with PR is a very powerful back link and other than a couple of minutes of your time it is a free back link.  Link velocity is more prevalent for newer websites but requires you to build links at the same sort of rate on a weekly basis so as not to raise any flags to Google of unnatural link building (spam).  Set your self a target to comment on a minimum number of blogs per week or even day if you have the time, other than guest blog posting which is another post for another day this type of back link is up there with the best of them for getting quick results and you will be amazed at your ranking improvements  for a relatively small number of links providing they are of a high quality and relevant.
Getting Links to Stick (The Hard Part)
Once you have posted your comments it is essential to copy and paste all of the url's into a txt file.  Unless these URL's are indexed the link is worthless so we need to copy and paste these URL's in to a pinging/RSS software once the comment has been approved.   I recommend using  bulkping  which is easy to use and its free. I usually revisit 2/3 days later to check for approval then ping the URL's.
Page Linking
Most people tend to link to the home page in the majority of cases when blog commenting.  It does depend on the blog post as to the relevancy of any content you may have available to deep link to but I highly recommend deep linking into a relevant post or article wherever possible, I try to get at least a 50/50 split but the more targeted post's you have the better chance of getting the link to stick and a deep link will carry more benefit than a home page link.
To demonstrate the value other SEO Companies place on blog commenting here is a screen shot from a website offering a manual blog commenting service.
Here is the full page link (Not that you should buy links at this price after you read on!)
http://www.submitedge.com/blog-commenting.html
As you can see just 50 comments on blogs with PR 2-5 costs $149, this is the power and value of blog comments.  The downside I suppose to manually finding blogs is the timescales and attention it requires to copy the URL's and ping etc.
If you have been reading my blog for any amount of time you will know I am all for automation wherever I can set it up, to this end I have had a software developed that finds a range of blog commenting opportunities all from 1 simple dashboard.  Link diversity is very much key in today's SEO world post panda/penguin so this software is more important than ever in finding a cross section of do follow  blog commenting possibilities.
Comment Commander Pro quickly finds up to 100 high authority blogs that allow do follow links in the comments and it finds 5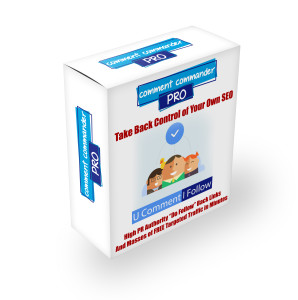 different types of blogs so potentially 500 blogs for 1 keyword.  It can search in date order so you can quickly find the latest hot off the press posts and you can also find some great guest blogging opportunities.
It has a built in database to save results and it automatically checks for approved comments when you want it to.
I have a more information and a demo of the software in action.  Please click here to get the details.