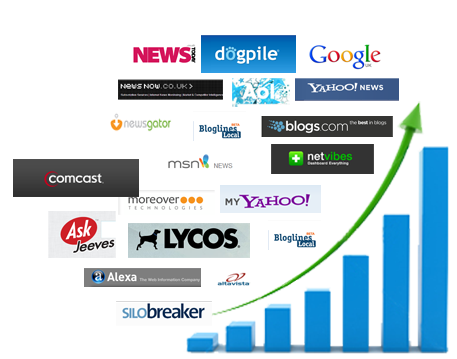 If you would like to see your website featured in Google News, Yahoo, Bing, Ask Jeeves and many more leading online search engines and news wires you need our service…
This is a Totally Hands Free Service!
Just £49



We write a professional press release (500 words)
We syndicate to a worldwide audience
We get results – Guaranteed!
Our premium service includes a professionally written press release that is syndicated to all of the major online news wires including Google News, over 50,000 Journalist's, bloggers, readers and subscribers…
A well written, well syndicate press release will provide The Highest Possible Gain For The Least Amount Of Effort
This service is designed to achieve the maximum results for the least amount of investment.  We have chosen the submission services very carefully, we submit to services based in the USA, UK, Australia and Europe to provide a true worldwide syndication.
 This service DOES NOT SUBMIT TO SMALL REGIONAL PUBLICATIONS unlike many of our competitors.  

The power of a press release lies in the partners you use to syndicate it to the masses. Our submission service does include all of the major news wires including Google news and all of the services have a high page rank which is essential for the search engines to assign authority to the release and therefore ensure a boost to rankings.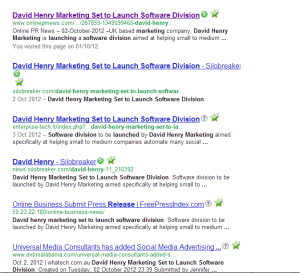 We submit to a wide selection of the worlds leading FREE press release services to ensure you get mass worldwide news coverage at the lowest possible cost (Why pay £300 + for the same syndication)
All of these sites syndicate to tens of thousands of individual subscribers and associated news wires, All of the sites we submit to are high authority PR Sites PR 7 – PR4
We include your logo and 1 image in each press release submission to further enhance the distribution
Your Press Release is picked up by the major search engines normally within an hour, sometimes within minutes and immediately syndicated to a massive worldwide audience.
We Provide high PR Authority back links to boost rankings
We drive Targeted traffic
We build your online brand.
We Guarantee to provide the lowest cost for this quality of release and level of syndication
What would results like this do for you brand and rankings
Our Team
We have been providing professional press release services for our marketing clients since 2009.  We have a small team made up of ex journalists and talented copywriters based in the UK or USA.  We offer a personal service, we write based on your key requirements,  keywords and website and we work on an unlimited revision policy to ensure your total peace of mind.
Our Service
Once you have made payment using the Paypal Button below we ask you to provide some basic information regarding the press release details.
We will send you the first draft for approval normally within 7 days which we require you to approve or request any changes you may feel you wish to make.  We work on an unlimited revision agreement to ensure every release is 100% perfect before any submission process begins.
Once approved we commence the submission process which will see results sometimes within the hour, we do leave it for 4 days to send you a  report to ensure all of the distribution has been successful and the report contains the actual URL of the main website distribution sites.  A simple search in Google using the full title of your release will provide a list of all of the associated news channels and niche related websites that have also picked up and published your press release  providing even more additional worldwide exposure to your brand.
Getting started
To Get started simply click the link below and make payment as requested.  Please complete the details requested on the following page and we  will send you the draft for approval within 4-5 days.
Once you have made the payment you will be automatically directed to a page to provide the details we need to complete your order.
We will normally complete the draft for your approval in 3-4 days and the submission will be completed in 7 days from receiving the details from you.
We will send you a full report of the submission websites URLs 4 days after the press release has been published.
We look forward to helping you promote your business and if you have any questions or need any help please contact us using the support desk below.
Support: https://www.plrprofitsclub.com/support